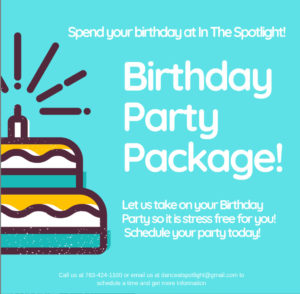 Let us take on your Birthday Party so it is stress free for you! Schedule one today, offered on Saturday's or Sunday's. 
2 hours is $100 (10 kids or less)
3 hours $140 (10 kids or more)
You can customize your party otherwise we teach a fun dance, play games, open presents and give all of our guest party favors. You can bring food, beverages and decorations of your choice. You are welcome to come 30 minutes before your scheduled time to do any set up necessary with the help of our staff. 
No food or drinks in the studio's. Kids should bring/wear tennis shoes, no socks in the studios. Call us at (763)424-1100 or email us at danceatspotlight@gmail.com to schedule a time and get more information.