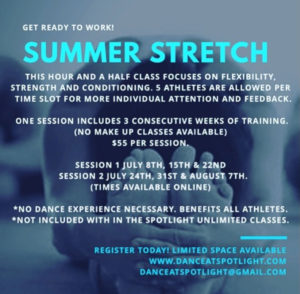 Get ready to work! This hour and a half class focuses on flexibility, strength and conditioning. Five athletes are allowed per time slow for more individual attention and feedback.
One session includes three consecutive weeks of training. (No make up classes available.) $55 per session.
Session 1: July 8, 15 & 22
Session 2: July 24, 31 & August 7
Register
Times available online
No dance experience necessary. Benefits all athletes. Summer Stretch is not included with In The Spotlight Unlimited Classes.